Detox Yoga & Hiking Retreat, Austria
| | |
| --- | --- |
| | Detox Yoga & Hiking Retreat, Austria |
| | 3rd July to 8th July, 2022 |
We bring to you an energising and revitalising Detox Yoga & Hiking Retreat in one of Austria`s most enchanting spots – the Tyrolean mountains! Summers in Tyrol are enchanting – the last snow melts on the mountain peaks, attracting hikers and climbers from all over to the unique Tyrolean mountains. Surround yourself by nature and take the break that you may have been waiting for so long.
Hence, this retreat includes 6-days and 5-nights stay where we will be combining Detox Yoga together with hiking to de-stress, release toxins, rejuvenate & unlock the mind's power.
6 days can do wonders to the body and mind. This retreat is designed to give you a complete experience of body cleanse and relaxation of mind through a combination of ancient yoga and a modern detox program. This retreat is perfect for eliminating toxins through the massage of the organs and boosting prana into your Nadis (energy channels).
Your Host: Sumit Manav
Yoga is not a religion. It is a way of living with the aim that 'a healthy mind is a healthy body'
Sumit Manav, is a modern yogi, with a vision & mission of spreading health, happiness and peace to the world. He is a celebrated Yoga personality, and has been acknowledged as one of the top 10 Yoga teachers from India. His revolutionary fitness techniques have been well acclaimed by both regional and international media. By understanding modern lifestyles, he has successfully created a fusion of ancient Yoga practices to cure many vexing lifestyle ailments through his brand Lifestyle Yoga.
Read More
In these gently energising and strengthening classes you can expect: gentle flow sequences, breath work, mantra and personal inspirations. The class will end with a deeply restful and soothing meditation and savasana.
Allow us to facilitate a deepening and lightening within you, melting away physical and mental tension. Enjoy a slower class in the evening, with aspects of yin, finishing off with an extended yoga nidra and savasana.
Benefits
This Yoga retreat is specially designed for people spend a lot of time in nature and rejuvenate themselves. Through a disciplined schedule of Yoga, healthy eating, being with nature they will be able to detox their body and feel a lot fresh.
During our 6 days Yoga Retreat you will:
Limited Spaces – Hurry & Book your Spot Now!
Early Bird Offer (before February 15th, 2022)
Booking based on single occupancy for accommodation: £1099 p/person
Booking based on double occupancy for accommodation: £999 p/person
Bookings from 16th February until 30th May, 2022
Booking based on single occupancy for accommodation: £1199 p/person
Booking based on double occupancy for accommodation: £1099 p/person
Book Now
There is a non-refundable, non-transferable deposit. We do understand that unforeseen circumstances can occur, but because of our pre-retreat financial obligations to the center, and because this retreat is rapidly approaching, deposits cannot not be refunded.
Before you sign up, please make sure this is a retreat you can make time and space to attend. If you can no longer attend for any reason, please do your best to find a replacement for yourself and transfer the funds directly. We always recommend the purchase of travel insurance to be safe. If we have to cancel or postpone the retreat because of COVID-related issues of health and safety, all participants will be refunded in full, lest their deposit which will roll over to the following year.
5 nights' full board accommodation – that is inclusive of organic meals (breakfast, lunch, and dinner)
5 days x 2 hrs of morning detox yoga and meditation sessions
5 days x 2 hrs of evening yoga and meditation to unwind and calm you with Yin yoga, Chakra meditation and Yoga Nidra
30mins of Yogic Passive Stretch
Guided hikes
Travel expenses (i.e. flights and airport transfers) to and from the retreat venue
Meals other than the ones mentioned above
Visa fees
Cost of beverages during the retreat
Expenses of personal nature
Any spa treatments and optional activities
Any other service not specified above
About Biohotel Grafenast:
The sustainable Biohotel Grafenast is a quiet and powerful place in Tyrol, Austria for perfect relaxation and refuelling soul and body. Grafenast is simply for the soul; a spot of silence and power. The fantastic view over the valley will open and blow your mind. You will also enjoy certified, strictly audited organic food – 100% organic quality is on the menu. The rooms are individually furnished. They reflect the philosophy of the house, striving for unity with nature. All rooms were built according to the strict criteria of sustainability and ecology. To be able to enjoy this comfort, the guests renounce with pleasure TV and other ray springs. Thought-out sleeping systems, spelt upholsterers and larch timber floors provide pure relaxation. In the organic restaurant the guests are spoiled with regional and organic specialties. The green and eco-friendly Biohotel Grafenast is the ideal place to recollect oneself and to strive for inner peace.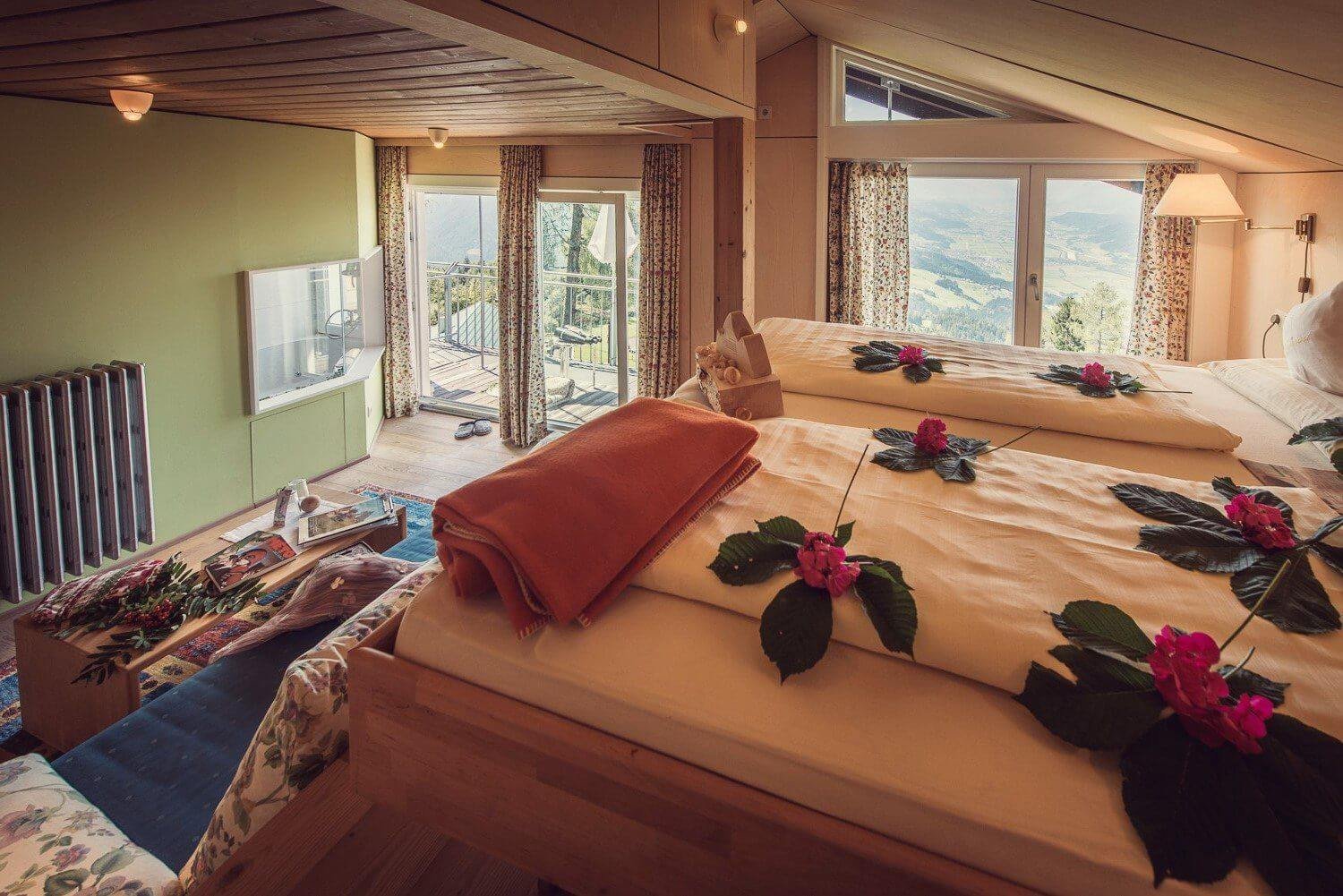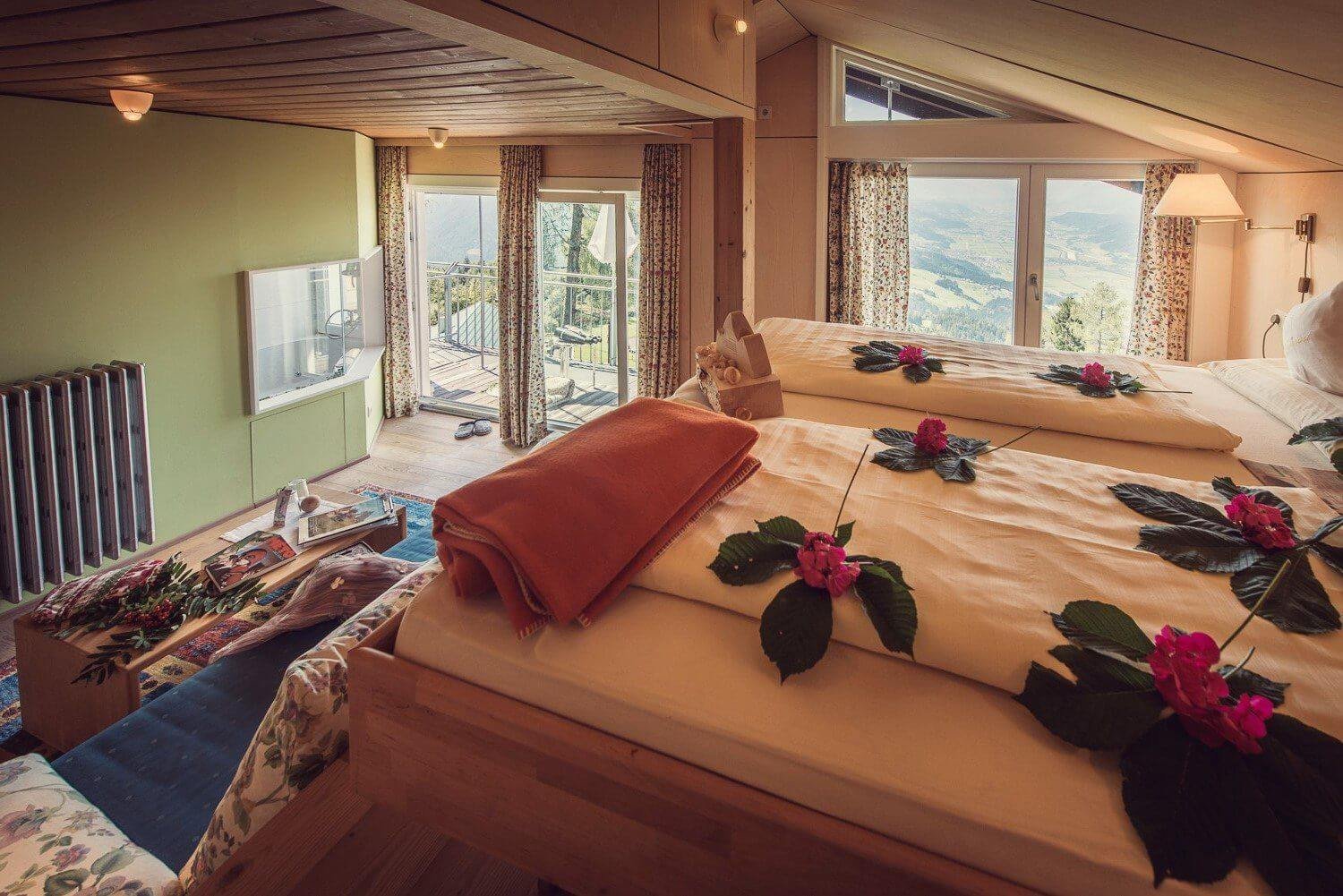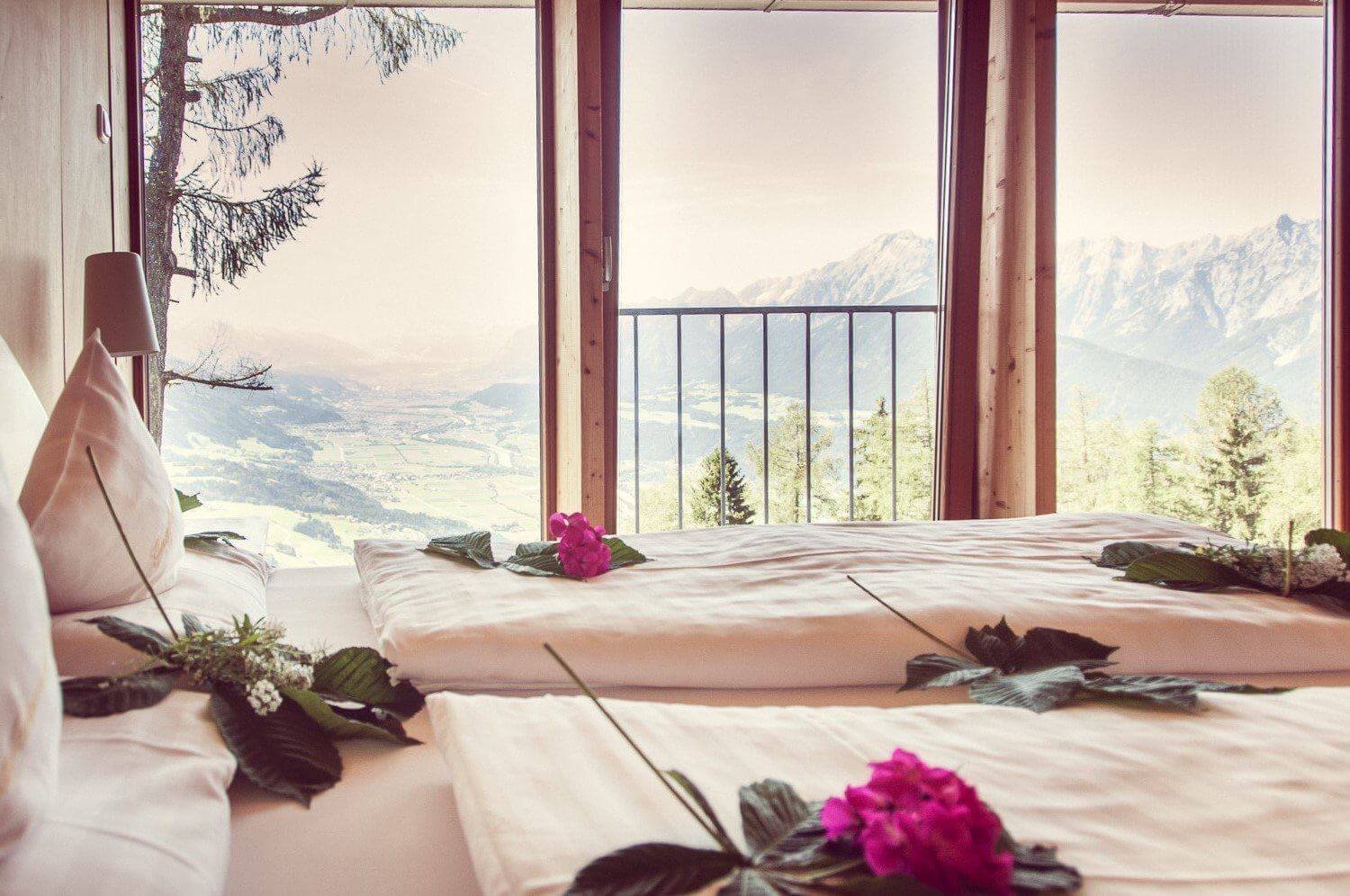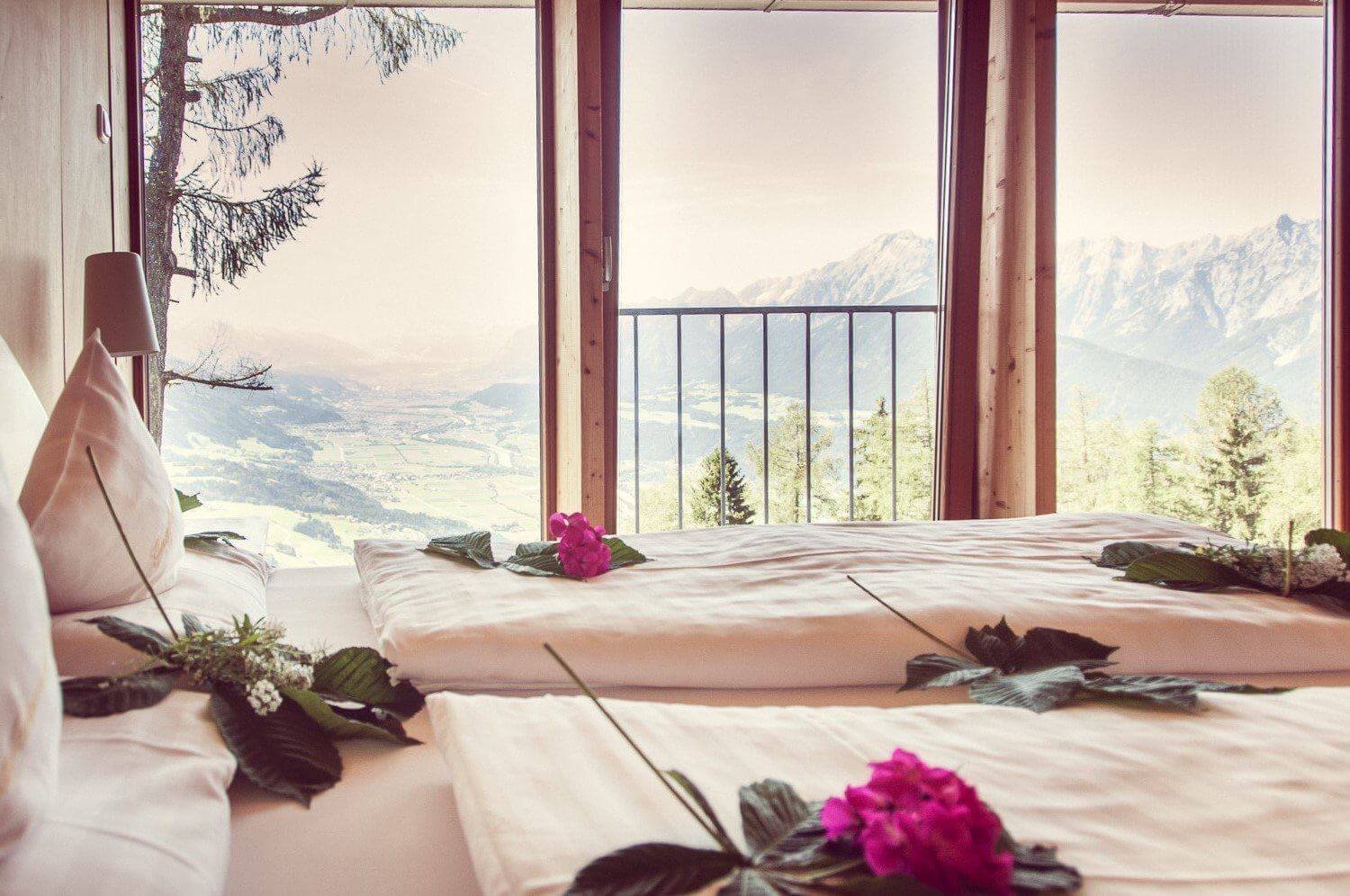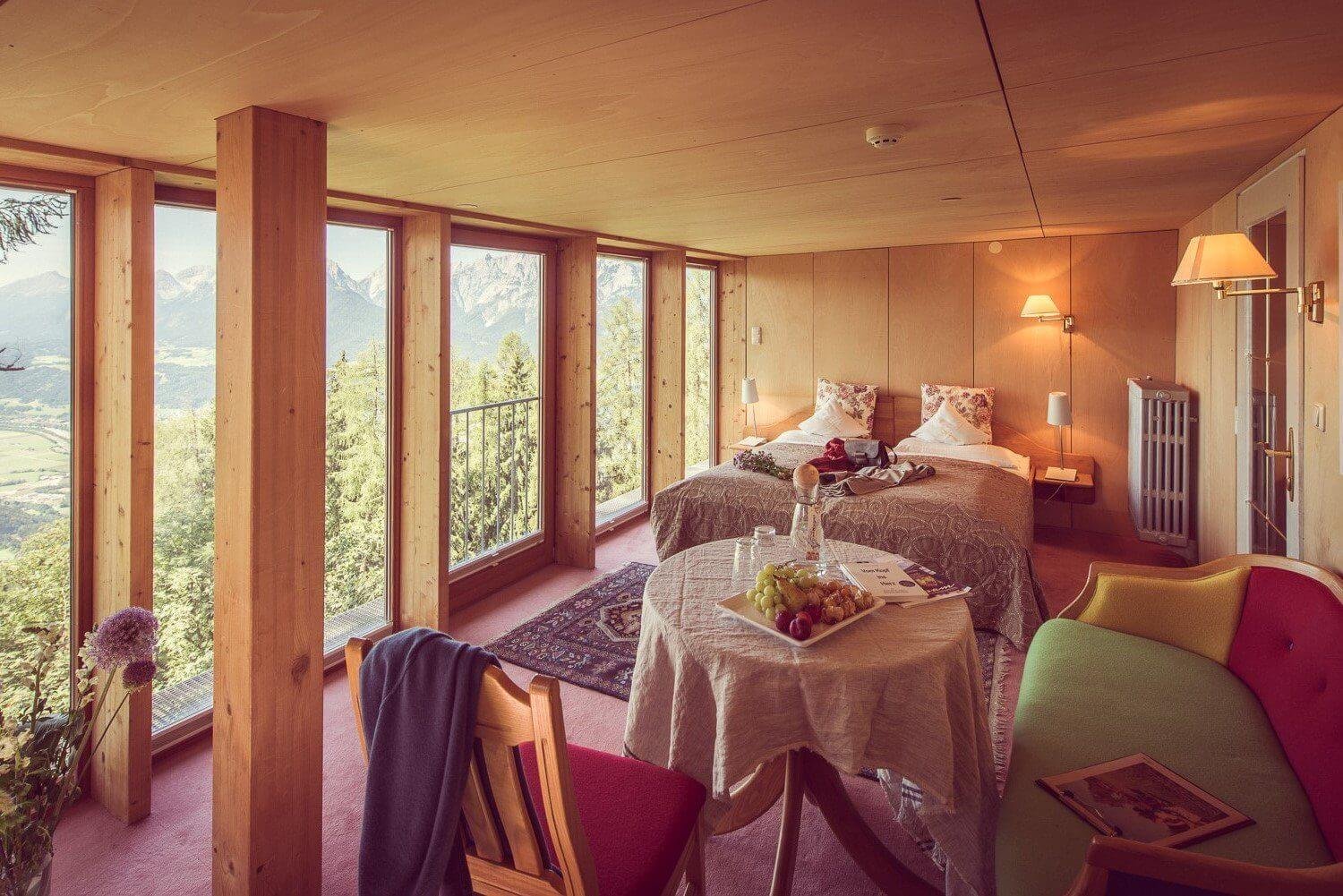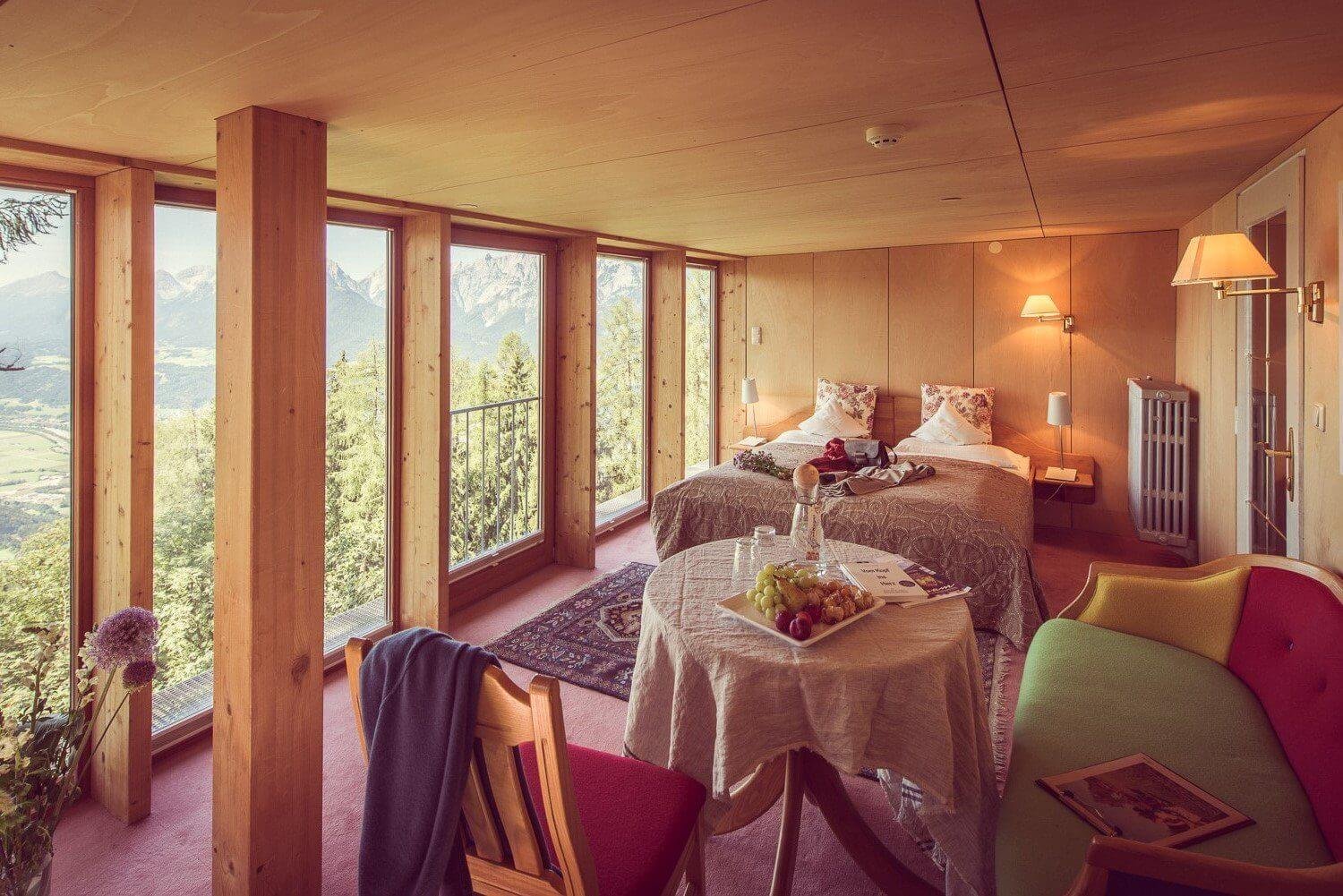 How do we go ahead about booking?
If you are interested to join, please contact us and we will send you a booking form, which must be completed with a 30% deposit. Remainder of the payment must be paid by 1st Apr 2020 to confirm your booking.
I am not a yoga practitioner
This retreat is for all those who love yoga, hiking and amazing weather. Doesn't matter if you are a beginner or advanced practitioner.
Do I have to attend all the yoga session?
This is entirely up to you. We understand that everyone likes to experience different things, however our suggestion is that you attend all the sessions to benefit the most out of the retreat.
What should I bring to the Retreat?
Personal yoga mat for hygiene reasons
Refillable water bottle for our yoga and hiking sessions
Appropriate clothing based on the weather conditions.
Summers in Tyrol are enchanting – the last snow melts on the mountain peaks, attracting hikers and climbers from all over to the unique Tyrolean mountains. Highs of 25 degrees, and lows of 11 degrees C are usually expected (but we would re-check closer to the time).
Sufficient changes of yoga wear – our retreat includes yoga classes at least twice a day (mornings and evenings).
Good walking shoes for hikes or general traveling about.
A blanket or shawl for Savasana / Yoga Nidra.
A journal to process and write down your thoughts.
A good inspirational book if you fancy reading in your free time.
I have specific dietary requirements, can I still come?
Yes, just let us know and we will coordinate with the hotel to try to cater to all needs.
I never hiked before, can I still join?
Yes ofcourse. If you enjoy being in the nature, it's never too late to start this amazing activity. The hike is not too challenging; and we always choose the trails that everyone can enjoy and experience.
Can we bring kids?
Yes, of course. Please contact us and provide us details of your children's ages and we can cater a package for you.
About location
Zu Besuch im Bio-Hotel Grafenast (Pillberg)

OUR HAPPY YOGIS
I've had the privilege of practicing yoga with Sumit Manav, and I can confidently say that his private sessions are unparalleled. His ability to blend traditional yoga techniques with modern practices is truly remarkable. Through his guidance, I have experienced increased mindfulness, improved clarity, and a heightened sense of well-being. Sumit's private yoga sessions are a must for anyone looking to embark on a transformative journey."
"Sumit Manav is a true master of yoga. His private sessions have not only enhanced my physical strength and flexibility but have also deeply connected me with my inner self. His holistic approach to yoga and meditation has been a game-changer for me, helping me navigate the stresses of a high-profile career. I am grateful for Sumit's guidance and highly recommend his private yoga sessions to anyone seeking profound transformation."
Sumit Manav's private yoga sessions have become an essential part of my wellness routine. His expertise in yoga, combined with his calming presence, has helped me achieve a level of strength and flexibility I never thought possible. The customized sequences he creates specifically tailored to my needs have greatly improved my overall health and vitality. If you are looking to elevate your yoga practice, I wholeheartedly endorse Sumit Manav."
Friendly, dedicated, and down to earth team. Highly motivational and committed to sharing the gift of yoga with us! Thank you for inspiring us and keeping us positive and energetic always! Namaste🙏😇
They are dedicated and profound. Their yoga classes are specifically designed and each class has benefits for different purpose yet all classes complement each class. Initially I was doing only Hatha and Yin yoga. With online classes I experienced all types of classes and I realised that all classes meant to be practised equally. The founder and teachers are just amazing and I am grateful for every class that I practise. Most importantly they maintain the quality of classes. So you can trust them to go for a long term practice.
Got a question? I'd love to hear from you. Send me a message below, and I will respond as soon as possible.