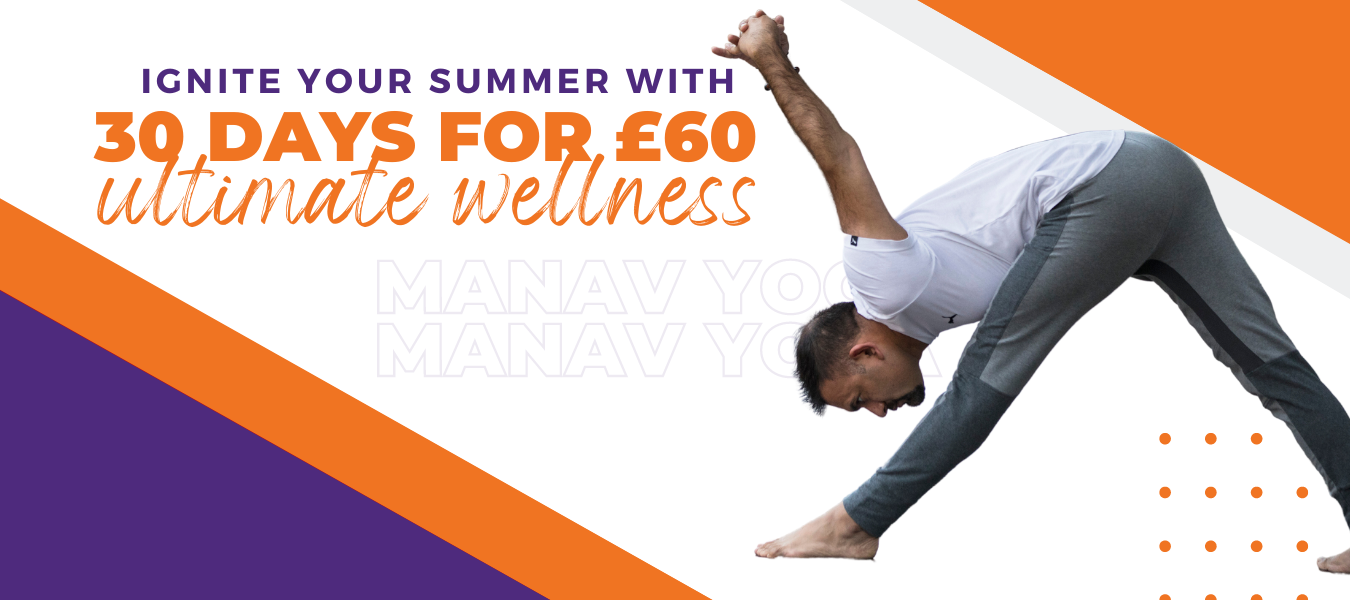 Unleash your inner yogi this summer with Manav Yoga's exclusive offer: 30 Days of Yoga for only GBP60!
Welcome to the ultimate yoga experience! Ignite your summer with 30 days of unlimited yoga at Manav Yoga for an incredible price of only GBP60!
Transform Your Mind, Body, and Soul: Immerse yourself in the beauty of yoga and unlock a journey of self-discovery, balance, and well-being. Sumit Manav is here to guide you through invigorating flows, helping you strengthen your body, improve flexibility, and find inner peace.
Explore a World of Yoga Styles: Experience the richness of various yoga styles, including Hatha, Vinyasa, and Yin yoga. From gentle, meditative practices to dynamic, powerful sequences, we have a class for every level and preference. Discover the joy of moving with intention and connecting with your breath.
Unleash Your Potential: Embark on a transformative 30-day yoga adventure and witness the positive changes in your life. Develop strength, enhance flexibility, reduce stress, and cultivate a deeper sense of self-awareness. Embrace the harmony of mind, body, and spirit and unlock your full potential.
Exclusive Benefits for You: As a part of this special summer offer, you'll enjoy more than just yoga classes. Gain access to exclusive workshops with 10% off, and wellness events designed to enhance your practice and elevate your well-being. It's a holistic experience you won't find anywhere else.
Join Our Vibrant Community: Become a part of our warm and welcoming community of like-minded individuals who are dedicated to personal growth and mindful living. Connect with fellow yogis, share your journey, and find support on your path to holistic wellness.
Limited Time Offer: Don't miss out on this amazing opportunity! Secure your spot today and embark on a life-changing yoga journey. With limited availability, act now to take advantage of our summer offer of 30 Days of Yoga for only  GBP60 Only!
📅 Start Your Transformation Today: Visit our website or give us a call to sign up for this special offer. Let the magic of yoga unfold as you experience 30 days of transformation, self-discovery, and blissful moments on the mat.
🙏 Embrace the Power of Yoga: It's time to prioritize your well-being, nurture your body, and awaken your spirit. Join Manav Yoga and experience the profound benefits of yoga in the most affordable and convenient way. Start your 30-day yoga journey today!
Terms & Conditions:
Book your class advance on punch pass
Valid for 30 calendar days from the first class booked/taken
One SUMMER OFFER per client
Attend any class up to once a day fro 4 – 5 class per week
You have 1 month to activate the pass
Once activated, the pass can't be frozen/extended for sickness, holidays, absences
General studio T&C's apply